Words and Images from the Mind of Adam Blatner
Gathering Thoughts
Originally posted on May 1, 2013
It has been a busy month: My wife Allee and I presented at the annual meeting of the American Society for Group Psychotherapy and Psychodrama (ASGPP). I offered a plenary talk that reminded folks that these approaches are not only about psychotherapy, even though I acknowledged and honored that realm of application. Indeed, it is my own background! But I see the potential of these approaches as having value for many fields quite beyond the clinical context.
Then I visited a dying relative and other family members and friends, and attended the 50th reunion of my medical school class of 1963 at our alma mater, UCSF (the University of California at San Francisco), a huge, multi-disciplinary medical center. There has been a trend there towards integration of the fields, so that, say, physical therapists attend the anatomy labs, and continuing education programs for physicians in the field are offered using simulated patients—really, forty-thousand-dollar mannequins that have all sorts of built-in devices—so they can practice coping with various emergent conditions.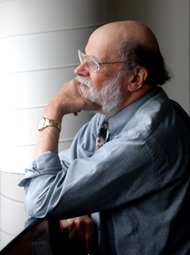 UCSF has expanded its campus and has a large presence in a still-being-constructed adjunctive campus about four miles to the east in the Mission Bay area. It was fun to visit the old anatomy lab and see all the neat technological developments. Looking out the window at perhaps one of the most picturesque scenes in the world was fun, too.
Now home and trying to put it all together. Really, I'm just allowing the angels to do it, open to their insights.