Words and Images from the Mind of Adam Blatner
Attraction
Originally posted on November 29, 2013
People are attracted to each other. There are scores of cues, and other factors. Does this person remind me of a favorite parent or relative that I bonded with? Or perhaps seems like the opposite of one that I despised? There are other factors, too, such as the degree to which I bought into or rebelled unconsciously against the biases of family and group—is the one who attracts me like or radically (refreshingly?) different from that group? There are many factors that symbolize grace, class, sexuality, down-home helpfulness, and so forth. What attracts one is not what attracts another. Here is an example, from a February 5, 2005 New Yorker cover.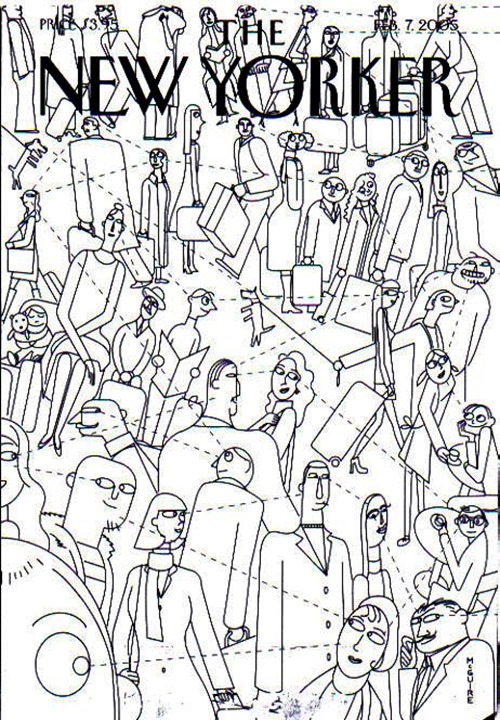 The thing represented only once—between the tall woman sitting to the right of the little child and her teddy and the short man sitting at the middle left with his suitcase—is the reality of mutual rapport—or what Moreno called "tele." The glance that is met with interest! How magical, when it works. Songs are sung: Strangers in the night… a glance away.
Jacob L. Moreno, M.D., a genius who developed many innovations, also developed a method, "sociometry," that made such implicit dynamics more explicit, to the point of charting them. I'd like to see this method, and the theory of social psychology behind it, become far more recognized in the world. Many people don't know about this dynamic—not explicitly—though everyone relates to it rather deeply.