Words and Images from the Mind of Adam Blatner
Reunion Memories 1
Originally posted on May 20, 2013
Returned last week from my medical school reunion. A fascinatingly rich experience on many levels, and I'm still sorting it all out. One part involved my awareness that more than most groups, this was my social reference group, the people whom I measured myself against. That is, as a young man, I realize now I'd been comparing myself unconsciously with others all along—it's really an archetypal instinct. And I've done it before and after this 4-year period. Whom do I envy and whom do I feel I've kept up with or surpassed? So many criteria, too! Some have achieved academic status or publicity that seem to have outdone me; others have surpassed me, it seems, in wealth and property. Others—well, I only recently realized this—might compare themselves with my apparent ease of socializing or achievements. Another part of me watches this process and realizes that it's all illusion: We all have pursued so many different paths, mixtures of paths.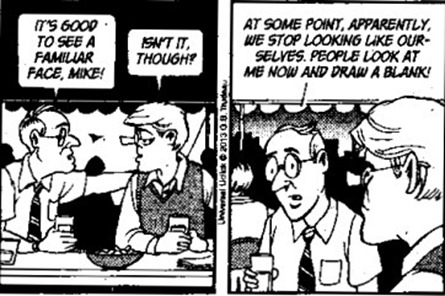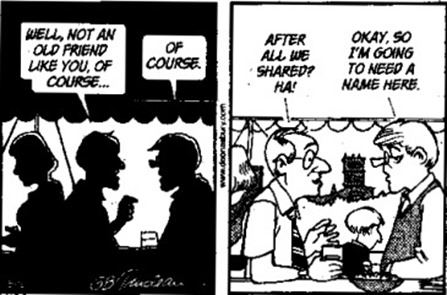 So the cartoon above was timely. Also my wife is planning her 50th high school reunion and my son came back from some college reunion, so the theme of checking in with our "roots" seems to be up—or as I sometimes think, the angels are trying to teach me a lesson here.
Another part of my medical school reunion has been the remarkable leadership, one facet of which has been the preparation of a booklet with our photos, what's happened to whom, and this in turn linked to the history of our University of California at San Francisco medical center. There are many levels that strike me here:
   (1) Where medicine as a profession has been, relating to a class in the history of medicine given by one of our professors, J. B. de C. M. Saunders—and followed up in my own life by a renewed interest in this history as a tiny window on the overall history of the unfolding of consciousness in the cosmos.
  (2) Where medicine as a profession has been going: This opens to innumerable facets of the socioeconomics, the progress, the new campus and the press of research on many fronts, a desire to promote more progressive overall preventive health agendas, and so forth.
  (3) Where each specialty is going. I heard about new developments and also blind alleys—technologies that are highly touted for certain con-ditions that also may involve unanticipated consequences. My own field of psychiatry has been changing, often in ways I don't like. (More interestingly, though, at the reunion, many of my colleagues still hadn't caught on that psychoanalysis had declined and hardly represented the mainstream of the specialty.) Well, more reflections will follow in a while.