Words and Images from the Mind of Adam Blatner
Postmodernism Skewered
Originally posted on July 28, 2016
Bill Watterson, who wrote and illustrated the cartoon strip Calvin & Hobbs, noted that language itself can be obscure, and those who write about postmodernism are really good at being bad in this way. For example: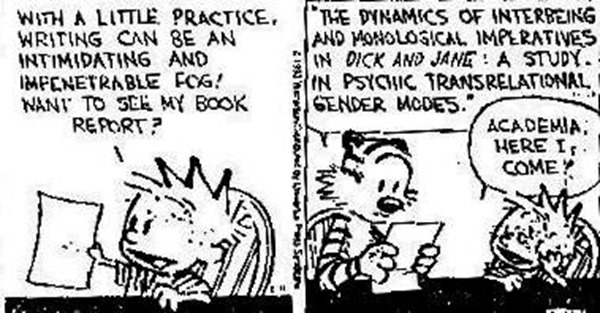 Actually, I rather welcome many of the principles of postmodernism, but those who write in this genre often appeal to those who are familiar with the jargon which obscures the arguments. Calving is a psychopathic brilliant kid, an alter ego to his creator. I love his work on the whole, but this piece gives me a chance to laugh and question.
In fact, Dick and Jane really carry the 1940s gender modes, which in 40 plus years would come in to question: Must girls always be like Jane and boys like Dick? No way! It notes that the "old fashioned" values of the "olden days" had a shine of being "the good old"—but women were really kept in "their place"—which, as sexist people believe, was where all right-thinking women wanted to be.
2 Responses to "Postmodernism Skewered"